Have you heard of Mercari? What is it? What makes Mercari so different from every other app that you can sell your used or gently used items with? Or it is just one of a million other apps that use the tired old process of selling my stuff to strangers?
What is Mercari?
Well for those of you who do not know what Mercari is, it is a marketplace where you can find your next favorite thing! It is where you can go to sell or find something new.
The Mercari team will help you with at-home pickups and same-day delivery at a price you'll like. So, you are not selling your items blindly and without any help.
You can practically sell or buy almost anything on Mercari, with an exemption to the items on our Prohibited Items list.
Over 50M+ people have downloaded it in the United States with over 350K+ new items being listed every day. iPhone users rate it 4.8 stars and Android users rate this app at 4.5 stars.
How Does It Work?
In 3 simple steps…
List It!
---
The first thing to do is to sign up and make an account. You are going to need to create a password and username along with an email you want to use.
Selling with Mercari saves you time by not having to worry about coordinating times with a buyer to pick up or drop off your items. And No scary meet-up to drop off and pick up your items. It's contact-free. Your address is not shared with the buyer.
Once logged in you want to just take a good picture with natural light to capture the item's true color. Make sure you put your best photo first.
You can take multiple pictures. The more the better. Customers like to view items from different angles. It helps them to decide and get a better idea of what the item looks like.
It's almost like almost being able to see the items in their entirety and not just a one-sided image of your item.
Selling tip:
Tip #1: Inspect it for any flaws, being upfront is important. It lets the buyer know you are aware and are not trying to rip them off or sell them bad merchandise. Note if there are quality issues in the fabric and stitching.
Tip #2: Make sure the closures – zippers, buckles, and snaps worked properly. As well as the ease of putting your stuff into the bag without much hardship.
Secondly, make sure it had characterized quality or features buyers are looking for, for example, adjustable length or interchangeable hip belts, side water bottle pockets, rear stretch pockets, ventilation, removable packs, compartments, attachment points, and or trekking pole holders.
Finally, remember Description is Key to a Perfect Item included with the condition, color, size, category, and any flaws the item may have.
IMPORTANT: Don't forget to add the Brand Name to your Title – some shoppers search for a specific brand.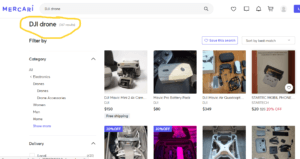 It is better to add the brand name of the item you are trying to sell, instead of no brand, or just style of clothing, because some unknown brands sell faster even though people are unfamiliar with them.
i.e. So Drones have over 999+ results, but if you search DJI Drones the results are 367. People who know what they want usually search by brand name or brand & model or style.  Don't get lost in the crowd, make your items stand out.
List your item in a category and the condition it is in –
New – New with Tags (NWT) unopened packaging. Unused.
Like New – New without Tags (NWOT) No sign of wear. Unused.
Good – Gently used. One/few minor flaws. Functional.
Fair – Used. Functional, multiple flaws/defects.
Poor – Major Flaws, may be damaged, for parts
Now to determine if you are selling your items are the right price. Check out similar listings sold to gauge what your item might sell for. Then set up Smart Pricing from the listing page. Name a starting price and a floor price & the price will be lowered based on demand.
2. Sell It!
---
After you list your item, Mercari will recommend a shipping method for your to ship your items. You can choose whether to cover the cost of the shipping or have the buyer pay for it.
There are 4 different types of delivery methods you can choose from depending on your zip code.
Mercari shipping sells your items to buyers across the United States, and once someone is interested in your item, they will send you a label via email and you'll ship the items.
Mercari Local sells to buyers within your neighborhood. A driver will pick up or drop off your items. This is good for fragile and delicate items. And the buyers pay for the delivery.
Mercari Shipping and Local (recommended) This enhances your chances of getting a sale with both choices. Buyer pays to start at $7.99+
DIY (Do It Yourself) You provide your own label and shipping cost. *You care not covered by shipping protection.
Mercari labels are covered up to a $200 Shipping Protection and a flat rate in all 50 states. And you'll save 30% off the retail cost.
IT SOLD!!!
Here's what you do next…
When you receive the email with the prepaid label. Make sure you send out the package within 3 business days, so your buyer can get their order on time.
Weigh your item in the package you plan to ship it in. The shipping cost is based on the total size and weight of the package.
Shipping Tips:
Tip #1: Pack the Item with Care so it will arrive safely to your buyer. You want be make sure your buyer feels you put some thought into the safety of their package.
Don't forget to – Attach the shipping label with the tracking number.
Tip #2: Ship within 3 Business Days of sale to ensure Buyer gets their package on time. If you are shipping on your own, include a valid tracking number.
You can request a pickup from either USPS, FedEx, or UPS
Tip #3

: Confirm Your Shipment to let the buyer know it may be delayed a day. Or tap "I've shipped it" on your order status page once the carrier has the package.
Seller's Review:
---
Once the items have been delivered, the customers have 3 days to open the package and rate the transaction. If there are any problems, they can contact the Help Center.
Within those 3 days, they will also have to rate you.
If they fail to rate you within those 3 days, Mercari will automatically give you 5 stars, this will complete the transaction. Then you'll….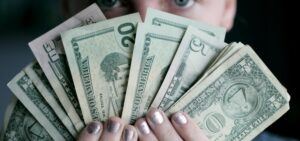 3. Get Paid!
---
You have the option of cashing out the balance with Instant Pay for just a $2 cash-out fee you can have the money deposited straight into your debit card with a valid debit card and government-issued ID.
Instant Pay allows you to see your balance within 30 minutes depending on your banks' processing time
Or if you don't mind waiting 5 days later, you will get a direct deposit from your balance page into your checking account. This option is free from amounts over $10
Deposited entered by midnight will be processed the next business day.
Accepted payment methods include all major credit cards, Apple Pay, and PayPal. You can also pay for part or all your purchase with Mercari credit or balance.
However, they cannot receive payment outside of the United States.
Make Shopping with Mercari your one-stop shopping center. Where all your Favorite New Money comes from.