Before the internet, when people wanted to sell their stuff there were so many steps that needed to be done before selling. If they were moving, needed more space, downsizing, wanted to buy more stuff, or whatever the reason was. They would usually have a yard sale, post it in a newspaper in the classified ads or in the buy n sell booklets.
Nowadays, there are so many different outlets for anyone to use to sell, trade, or donate their stuff online. They could invest in themselves with little or no cost to start up a business, be part of a community, or sell locally.
Here are our top picks for you to create your own store and sell your products online. There is an endless supply of website builders to help those who want to do it on their own. This is our list of the Top 7 Website Builders.
     1.  WIX
---
At WIX, there are 6 easy steps to get started on your own online store.
First, sign up for an account to get a free website and decide on your niche. What is YOUR website about? Who is your targeted audience? What are you selling? Secondly, customize your site just the way you like it or get one already customized.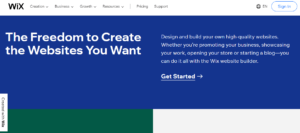 Third, your design features like a video, gallery, or designer art. Fourth, finish up on your final touches like your online products, a blog, and members area.
Fifth, publish your website and launch yourself into the world wide web. Lastly, monitor your site by driving traffic to it with SEO and other search engines.
Wix was created in 2006 and has been in business for over 15 years. This company's main interest is to help its users, professionals, bloggers, new or established store owners to create whatever type of website you want.
They offer the convenience of choosing templates or answering simple questions to get the perfect website designed especially for you.
You can also add additional features as your business begins to grow into your online store by adding a blog where you can connect to your customers with content and images and through your social media apps.  Or choose a ready website that is designed for your business without the added stress.
     2.  Squarespace
---
With Squarespace, Click the Get Started button on their website. Then, you can choose your website template to create a professional portfolio.
Present it to your clients with graphics and create a logo with our logo maker. Connect to your audience with blogging tools, SEO, analytics, your custom domain, and social media.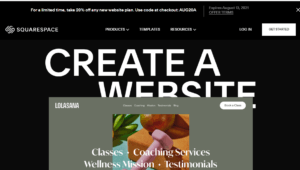 This website is about helping people with bold ideas to stand out and succeed. This company started in 2003 in Anthon's dorm room at the University of Maryland with a team of over 1,100 contributors and over 1 million websites.
It has also been recognized with many achievements simultaneously in 2017, 2018, 2019, and 2020 for Top 10 New York Based Employer Brands by Hired, Great Place to Work-Certified in the US and Ireland by Great Place to Work, and 100 Best Places to Work by Built by NYC.
---
Network Solutions is an American technology that has been in business for over 42 years. It is a DIY Website Builder to help set up in 3 easy steps.
First, sign up and get a FREE domain name registrar.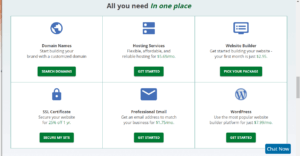 Secondly, design your new website in minutes with a company that helps users with web hosting, web design, and online marketing, SEO, and pay per click which is affordable and easy to use.
Thirdly, you are now ready to publish your website to the world and grow your business into the next big, best thing.
This company helps its customers with Web Hosting, Website Builders, eCommerce website builders, Cyber Security, Domain Names and Registrar, Online Marketing, Email & Office, IT Services, and blogs. There is so much information available for you.
     4.  Geebo
---
Geebo is an online classified marketplace. Founded in 2000 by Greg Collier.
This website is like Craigslist and eBay, so if you are looking for an alternative site, this would be your go-to site.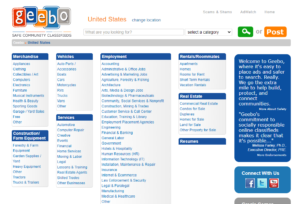 They are a more personal connection platform helping people find a product or service. Their tagline is a safe community of classifieds.
It is a free listing website whose primary categories are job listings, real estate, automotive accessories and parts, and other general merchandise like health & beauty, Home Services, and Sporting Goods. They are available in most US markets.
 5.  Ionos
---
It is easy to start your online store at as little as $1 a day. This company helps you choose your website design that suits your website needs. Its templates help you stand out and are right for your industry or niche.
You can add content to personalize your website. Add images, text, and templates how your see fit. With over 17,000 images and fonts to choose from it will make it easy and flexible to view your store from any mobile device, PC, tablet, or smartphone.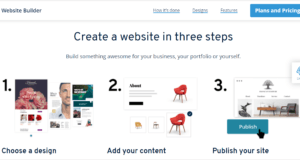 Once you complete your website, it is time to publish it to the world, and with the help of our SEO tools, you will be found much easier on Google search engines.
They specialize in Hosting, Word Press, Domain & SSL, Websites & Stores, Email & Offices. Their largest company is in Europe, where they help over 8 million customers and 12 million domains in the US and Europe. They specialize in small and medium-sized businesses in web hosting and cloud partnerships.
     6.  Domain.com
---
You can build your website with customized designs, free hosting, connections to Facebook and other social media by updating your followers with your latest news.
Begin listing an unlimited supply of products for your customer's every need in any size and color in any service or product using PayPal, Stripe, or Mollie accounts.
How do you start? First, provide information about your store. Then pick your payment method. Thirdly, select the shipping method that is right for you.
Then, add your products either digital or physical products to your store. And lastly, create the store you want. Publish your store to the world and get ready!
     7.  Big Commerce
---
Selling is made simple at Big Commerce. Get a FREE month when you start your trial and build your store exclusive to your business needs. Then,
launch your customized store with powerful features and expert advice from your own support team.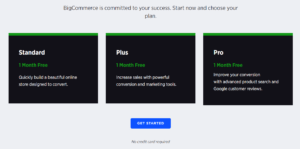 At Big Commerce, they know how to help you grow your business with a website unique to you and to help you move in the right direction.
Let me know what you think about these seven businesses and if there are other businesses you think should've made the list.